Welcome to Moment Garden!
Our vision is simple. We want to help parents collect, save and (privately) share their child's moments with the people who matter most. Why? Because we want it for us too! Our goal is to make Moment Garden a self sustaining business built on a quality product. This is important because we're in it for the long haul.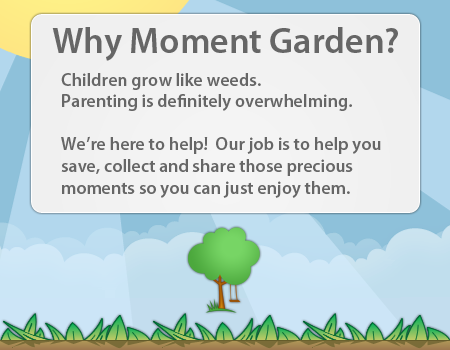 Children are amazing! From day one, their pictures and the precious moments throughout their life are priceless. Looking at an old picture, or even reading a quote from when they were 4 years old and commented, "Don't worry Mommy, I'll teach you" can give you a huge smile from ear to ear.
Due to privacy concerns, popular sites such as Facebook are becoming less safe for sharing this data. With Moment Garden, we are building a place where you can feel more comfortable sharing data and not worry about what your 500 Facebook "friends" do with your child's photos and data.
Moment Garden began as an online time capsule, and that is still how some people use it. But a time capsule is something you fill up a single time and bury, only to dig up years later. We want Moment Garden to be something you can re-live everyday; a place that celebrates your child's life and keeps your family and friends updated every step of the way (pun intended).
Whether you are photographing daily activities, recording height and weight, logging those funny quotes and stories, taking weekly profile shots, or using Moment Garden in another way, we just hope you get out of it as much fun and enjoyment as we we have experienced building it.
Best,
Chris and Zack
Chris and Zack met in 2005 while working for IBM in Rochester, Minnesota. After a number of years working for a large corporation, they both left with plans to follow their entrepreneurial dreams. In 2010, Moment Garden was born!
Team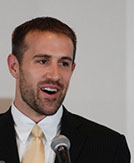 Chris Kundinger, Co-founder
Chris spent 5 years working at IBM on projects in Database and Security. He left IBM in 2009 to join a Y Combinator company Socialbrowse which gave him his first taste of startups. Chris has a passion for developing beautiful, yet easy to use products and is a little nuts for liking Javascript so much. Outside of work Chris enjoys married life, traveling, cooking, snowboarding, disc golf and hanging out with friends (to name a few).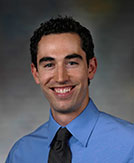 Zack Garbow, Co-founder
Zack worked at IBM for over 4 years, most recently on cutting edge projects within IBM Research, where he received over 100 patents pending and was named an IBM Master Inventor. Zack then spent time living and working in Silicon Valley as part of the Y Combinator startup program. Outside of business, Zack enjoys hiking, snowboarding, cooking with his wife at their home just outside of Boulder, Colorado.
Zack is expecting his first child in April and Moment Garden has been invaluable for keeping his family up to date through the pregnancy!
Candace and Amelia
It wouldn't be fair to list the members of our team if we didn't list our loving wives. Their endless support can not be appreciated enough!
We have been very fortunate to have some unbelievably great users who have been, and continue to be, invaluable in building and shaping Moment Garden! We sincerely thank you. Your feedback and stories of how Moment Garden has played a role in your life have not only been inspiring but extremely motivating!
Please do not hesitate to contact us with suggestions, comments and even criticisms! We highly value your feedback.
Please feel free to email us anything on your mind and we'll respond right away!